This Thursday night, tune in to the BIGFANBOY LIVECAST #7, featuring myself and inking master Jaime Mendoza. Host Mark Walters runs an interactive internet radio show, where listeners can call in and participate in the chat room, or just listen online live. The show begins at 9pm Central (10pm Eastern) this Thursday night, January 25th. For full instructions and info on the show, head over to
www.bigfanboy.com
and look in the CREATOR INTERVIEWS section. We'll be talking about everything from Comics and movies to video games and the seedy underbelly of professional comic work (i.e.- booze and strip clubs). Not only that but I've agreed to do a shot of tequila every 15 minutes during the duration of the show(that's 8 shots for anyone that's counting) so please sign up and call in to make fun of me or just listen to me make a complete and utter fool of myself.
This is sure to be a fun couple of hours, so please tune in!
instructions for signing up and calling in for free are at the following link:
bigfanboy.proboards39.com/inde…
It's easy to do so I expect all of you to be listening or calling in. I need all the support I can get!

And since I still have Sketchbooks available, I'm including the previous journal entry:
PLEASE READ THIS FULLY! ALL ORDER INSTRUCTIONS ARE IN THE JOURNAL!
Well, it's that time of year again! The 2006 sketchbook is hot off the presses and available for your immediate consumption. The book is a bit more impressive this year with 42 pages of doodles, sketches, and linework I've done over the last year. Over 100 drawings crammed into one handy dandy book. The sketchbook comes SIGNED and square bound(no staples for this bad-boy) with a glossy cardstock cover. As a little BONUS, I like to doodle original sketches on the inside cover from time to time so you might be lucky enough to randomly receive one of the sketch editions!!
NOTE- DO NOT ASK FOR A SKETCH EDITION! These are random and asking for one is a sure fire way to guarantee you won't get a sketch copy. I do these when I have time and completely for fun so trying to fulfill everyone's request for sketch copies takes away from my regular work I have to do for Marvel Comics on a daily basis. The good news is that if you do get a sketch edition you get it for the same price as a regular edition!

The sketchbooks this year are $15 plus $5 shipping anywhere in the 48 states. Hawaii, Alaska, and international orders will cost a little more based on your location. This is just for the 2006 sketchbook. The 2005 sketchbook is out of print and sold out so we won't be able to fulfill any orders for last years addition.
ORDER INSTRUCTIONS: Simple! Just shoot an e-mail off to Markbrooksart@msn.com saying you'd like a sketchbook and my lovely wife Lisa will get back to you usually within 24 hours with full details for ordering the book. We accept checks, money orders and PayPal so shoot off those e-mails and you'll have a copy in your grubby little hands in no time!
Thanks to everyone that ordered my sketchbook last year as well as anyone that took the time to come by my little corner of the universe to look at my work or leave a comment!! It means a lot that you like what I'm trying to do!
MYSPACE PAGE:
www.myspace.com/markbrooksart
YAHOO GROUP(please sign up!):
groups.yahoo.com/group/mark-br…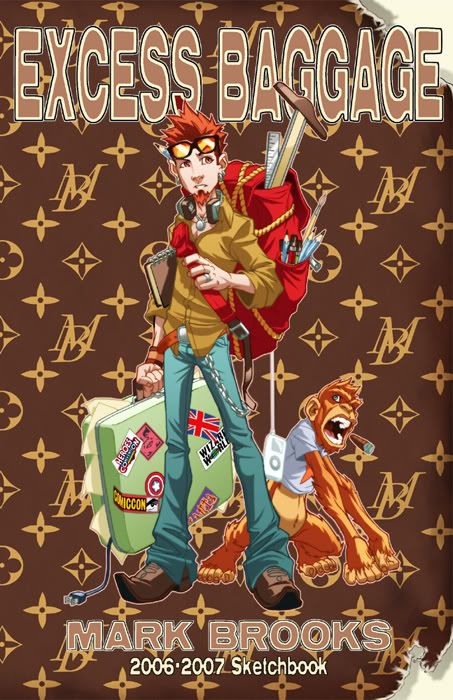 Thanks for reading!
-Mark